Description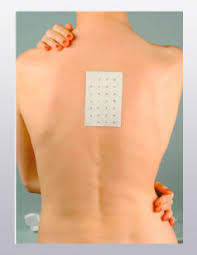 About product:   The purpose of the patch: treatment of colds. It has anti-inflammatory, warming, vasodilating and analgesic effects. Promotes increased blood circulation. Applicable for colds and inflammatory processes: tonsillitis, sinusitis, sinusitis, otitis media, bronchitis, cystitis, tracheitis, etc. It is also used as a distracting, anesthetic for radiculitis, neuralgia, myositis, lumbar pain, cervical "lumbago" and other forms of osteochondrosis. Can be used by children from 3 years old. Contraindicated for pregnant and lactating women. Do not use on damaged skin. Individual intolerance to the components is possible. It is recommended to change the patch at least once a day. With a strong burning sensation, it is removed and the skin is lubricated with cream. Reapplication of a new patch to the same place is possible after a break. Composition: cayenne pepper – stimulates blood circulation, is a local irritant and antiseptic; warms up, relieves pain with neuralgia, radiculitis, lumbago, myositis; camphor – stimulates blood circulation, is a local irritant and antiseptic; belladonna extract – has pronounced neurogenic, antispasmodic and analgesic properties; natural salicylic acid ester – analgesic and anti-inflammatory agent; peppermint oil – has a bactericidal effect, stimulates blood circulation, relieves pain and spasms.
Назначение пластыря:  лечение простудных заболеваний.
Обладает противовоспалительным, согревающим, сосудорасширяющим и обезболивающим действием. Способствует усилению кровообращения.
Применим при простудных и воспалительных процессах: ангина, гайморит, синусит, отит, бронхит, цистит, трахеит и т. д.
Применяется также как отвлекающее, обезболивающее средство при радикулитах, невралгиях, миозитах, поясничных болях, шейном «простреле» и других формах остеохондроза. Можно использовать детям от 3-х лет.
Противопоказано беременным и кормящим женщинам Не использовать на повреждённых участках кожи. Возможна индивидуальная непереносимость компонентов.
Пластырь рекомендуется менять не реже 1 раза в сутки. При сильном жжении его снимают и кожу смазывают кремом. Повторное нанесение нового пластыря на то же самое место возможно после перерыва.
Состав:
перец кайенский — стимулирует кровообращение, является местным раздражающим и антисептическим средством; разогревает, снимает боль при невралгиях, радикулитах, люмбаго, миозитах;
камфора — стимулирует кровообращение, является местным раздражающим и антисептическим средством;
экстракт белладонны — обладает выраженными нейрогенными, спазмолитическими и обезболивающими свойствами;
природный эфир салициловой кислоты — обезболивающее и противовоспалительное средство;
масло мяты перечной — обладает бактерицидным действием, стимулирует кровообращение, облегчает боль и спазмы.