Description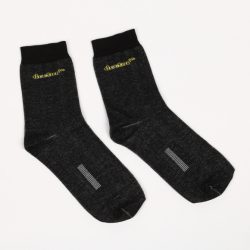 Copper thread in combination with bamboo fiber in the sock
• destroys and inhibits the infectious action of the main species of fungi and bacteria, including Candida albicans (Candida fungus), Staphylococcus aureus (Staphylococcus aureus) and Tinea capitis (ringworm);
• prevents development and promotes the healing of trophic ulcers, suppuration, eczema and dermatitis;
• eliminates unpleasant odor of feet, sweating, peeling;
• leads to rapid healing of wounds, bruises and sprains;
• regulates the temperature regime;
• eliminates swelling of the legs, promotes normalization of blood circulation in the lower limbs;
• improves the functional state of the skin of the legs.
Socks are recommended
• for the prevention of foot care, People with Diabetes.
• patients with fungal lesions of the feet, with trophic ulcers, cracks, eczema, diabetics;
• people suffering from excessive sweating of the feet;
• in the recovery period after injuries;
• people who lead an actively active lifestyle, or vice versa, associated with low mobility.
The unique technology of mixed connection of copper and bamboo threads gives socks the necessary elasticity and extensibility, provides reliable protection of the feet from all unpleasant effects, preserves the warmth, comfort and coolness needed depending on the season.
• HIGH WEARING RESISTANCE
• SMOOTH WASH
• COPPER YARNS DISTRIBUTED BY THE SURFACE, – SUPER ELASTIC SOCKS!
Tired of the unpleasant smell of your feet?
SOCKS WITH COPPER YARN CAN BE WORN UP TO 4 DAYS without the need for washing!
No need to wash as often as other socks!